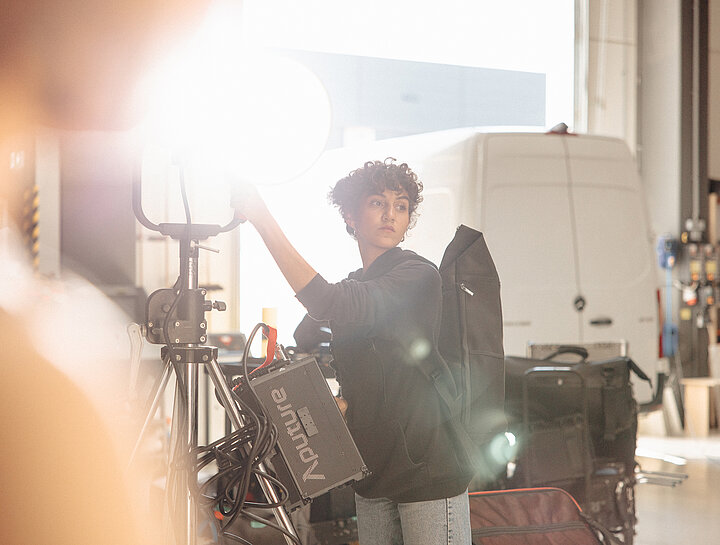 Here you will find a summary of the most important questions for international service productions! See the guidelines for full details.
01

What is funded?

International films, series and episodes (fictional and documentary formats as well as virtual reality or virtual reality formats) if they are realized in whole or in part in Austria, i.e. the added value is generated in Austria, but the requirements for obtaining a certificate as an Austrian film or Austrian series are not met. 

International films, series or sequels are carried out as part of service productions at the film location Austria.

They should be intended for commercial exploitation and not just produced for private use. The applicant for funding must demonstrate this credibly by means of a corresponding declaration of intent from the client company or similar when submitting the application.

02

How big is the funding

Funding in the form of a non-repayable grant is up to 30% of eligible production costs, and can be increased by a further 5% if Green Bonus requirements are met.

The assessment basis for the amount of the subsidy is a maximum of 80% of the total production costs.

Irrespective of this, the subsidy can be increased by a lump sum of up to 25.000.- Euro as part of the so-called gender gap financing.

Max. funding per project

- film or single episode: 5.000.000.- Euro

- series or series season: 7.500.000.- Euro

Funding for international productions for films, series and sequels can be cumulated with funding from other institutions or local authorities, with the exception of funding from federal funds.

03

Which criteria have to be met?

Funding may only be granted for projects that have a cultural content based on verifiable national criteria.

To ensure that only films, series and episodes of series with cultural content are funded, the AWS carries out a Cultural Test for each project applied for in the course of the funding process. The project must pass the test prescribed in the funding guidelines.

Click here for the attribute test, which consists of the parts cultural content, filmmakers and production. The film receives one or more points for each match with the criteria mentioned in these parts.

04

What are eligible costs?

Eligible costs are that part of the production costs of those applying for funding, excluding VAT, which are spent as project-related expenses in Austria under the following conditions:

A. personal services

Wages, salaries, fees and fees are recognized as eligible costs if and only to the extent that they are the subject of unlimited or limited tax liability in Austria and for which tax liability also exists in Austria under the double taxation agreement. The employees involved in the production of the project at the funding applicants must be specified in a staff and occupation list customary in the industry, stating the tax-relevant place of residence or place of business. As part of the Gender Gap Financing according to Appendix 2, the staff list for the relevant positions must be expanded to include the gender of the employees.

The following restriction applies to projects in accordance with Section II "International films, series and sequels of series": For persons who are subject to withholding tax in accordance with Section 99 EStG as a result of their activity or service provided, a maximum of 50% of the fee that is taxable in Austria can be considered eligible costs be acknowledged. Artistic people are affected by this. A prerequisite for recognition is proof of the payment of the withholding tax at an Austrian tax office.

B. corporate services

Services provided by companies are only recognized as eligible costs if

a) the company providing the service has its place of business or a permanent establishment (branch office) in Austria at the time the service is provided and the accounts are rendered, and a business license is available and

b) the invoiced service was actually rendered or purchased, leased or rented in Austria and

c) the detailed accounting of the company or the business premises (branch office) is sent to the applicant

Not eligible are costs that:

-  arose before the date of the application (recognition date), with the exception of costs for preparatory work in accordance with Art. 2, No. 23 AGVO

- cannot be clearly assigned to the project to be funded

- are not usually incurred for the production of a film, a series or a series, i.e. cannot be allocated to any cost item

- are in conflict with the special provisions

- which are contrary to the principles of expedient and economical economic management.

05

Are there mandatory minimum expenses or minimum total production costs in Austria?

Funding can only be granted for films, series or individual series episodes if the recognized eligible costs per funding application are met:

- Feature film, fictional series, series season or series sequence: min. 150.000.- Euro 

- Documentary film, documentary series or series season or series episode or virtual reality:  min. 80.000.- Euro

- Production parts in the areas of audiovisual image and sound (post)production, animation and digital film effects must: min. 25.000.- Euro.

There are no minimum production costs.
06

How does my company qualify for a grant?

Film production companies and production service companies based in Austria that are independent of media service providers and subject to tax in Austria or such companies that have a permanent establishment (branch office) in Austria can be considered as applicants for funding under this provision. This applies regardless of their company location, as long as it is within the European Economic Area or Switzerland.

The executive film production or production service company for international projects has to take over the compilation of the technical and artistic means for the implementation in Austria and to ensure the production and its control, as well as to be responsible for the production expenses incurred in Austria. 

Applicants for funding must be sufficiently qualified to implement the project to be funded and must therefore have been responsible for the implementation of at least one comparable project as a production service company or as a film production company within ten years before submitting the application (as a natural or legal person or through a company affiliated with them under company law), regardless of whether it was a TV, streaming or cinema production or a co-production.

Applicants for funding can only be considered as production service companies if the companies can demonstrate a film industry specialization in the areas of audiovisual image and sound (post)production, animation and digital film effects (VFX) or film music at the time of application and in these areas for sustainable value creation and investments in Austria. It is possible for several production service companies to join forces for different parts of the production in the form of an Austrian co-production and submit a joint application, provided the film or series project to be funded is the same ("pooling").

Media service providers are not entitled to apply for funding.

07

How does the application work?

The application is submitted exclusively in electronic form via the aws funding manager. It is absolutely necessary to submit all required application documents and to provide credible evidence that the film project will be financed.

Applications can be submitted continuously, regardless of application deadlines.

The AWS must allocate the funding in accordance with the present guidelines and usually decides on fully submitted funding applications within 30 working days.

In the event that an application for funding is rejected, the AWS will inform the applicant of the reasons for this decision in writing.

No applications may be submitted for projects for which filming has begun in accordance with these guidelines before the application is submitted. For international productions of films, series and sequels according to Section II, the start of shooting in Austria or the start of the production of production parts within the meaning of these guidelines in Austria is decisive. In the case of virtual shooting, this means the first virtual day of shooting in Austria or the production of digital assets in Austria, provided that this takes place in the run-up to the first virtual day of shooting.

At the time the funding decision is made, the funding must, without taking into account the funding based on these guidelines, be proven through a service production agreement and, if necessary, through commitments from regional film funding agencies.

In particular, the following evidence and documents must be submitted with the application

   - Information and proof of qualifications of those applying for funding (business license)

   - Confirmation that the requirements according to Article 1 Paragraph 4 c) AGVO (company in difficulty) are not met

   - Project description (incl. screenplay or shooting concept)

   - Schedule and, if necessary, shooting schedule

   - (preliminary) list of staff and members with details of tax-relevant place of residence and nationality

   - cost calculation ("industry-standard scheme") of the project to be funded, separated according to total production costs (at least calculation total sheet), detailed list of production costs for those applying for funding including the reported share of the expenses to be implemented in Austria (eligible costs) and marked own work

08

How does the Gender Gap Financing work?

For productions, the requested FISAplus grant can be increased by a lump sum of up to 25.000.- Euro as part of the so-called gender gap financing if the submitted film project achieves a defined target value (minimum number of points) for female employees in head departments and there is a corresponding need for financing is.

09

How does the Green Bonus work?

When producing the project to be funded, attention must be paid to an ecologically sustainable production method and the currently applicable environmental standards in Austria as a film location must be observed when realizing the projects.

In order to receive the increased funding rate of 5 percentage points (green bonus), those applying for funding as a production company and the project to be funded must meet certain requirements. Either the production company and the project to be funded must be certified with the Austrian environmental label UZ76, or those applying for funding must demonstrably meet a certain number of criteria in accordance with Appendix 1 "Green Bonus". A prerequisite for the proof is a review of the fulfilled criteria by an independent testing body, in particular those listed for the UZ76 eco-label or equivalent.

The environmental label must be applied for before the start of filming in Austria!

Additional costs that arise as part of Green Filming in Austria (e.g. Green Consultant, UZ76 licenses, etc.) must be shown in the detailed calculation and can be recognized as eligible costs.
Back to main navigation